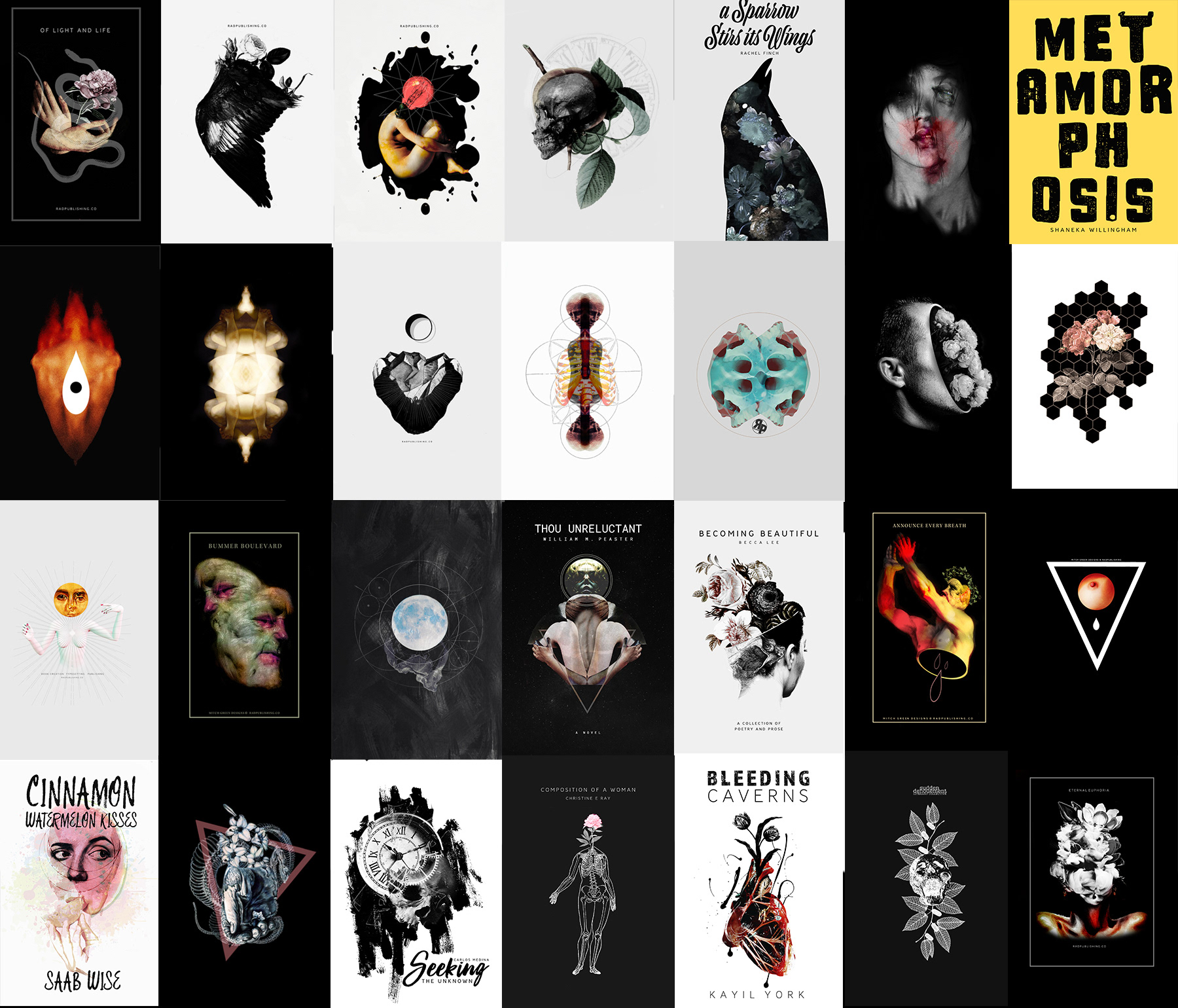 Kyleh Linda
I found Mitch from a book cover he made for a poet I follow, and loved his style so much that I asked him to create a logo for my business. After listening to me babble for days, working his butt off for me for weeks, and creating 14 different concepts (all patiently and kindly, mind you!), I fell in love with the perfect design. He brought into reality an idea I had, more perfectly than I could of even hoped. 100/100 recommend working with Mitch at Rad."
Toni Hoyer
"The artwork is just so perfect, I teared up. Seriously, it's perfect. Thank you again!"
Melissa Wilder
"Honestly it's fucking perfect."
Samantha Lucero
"DAAAAAAMN HOW MY SUPPOSED CHOOSE! Holy shit, love them all."
Rachel Finch
"Oh WOW. Man that has taken me forever to choose!! They are STUNNING."
Neithan Levi
"HE IS THE MAN. Period. Absolutely subperb work and work ethic. Mitch has an unmatched artistic vision and designing skills. We began our professional relationship back in 2015 and I know for a fact we will keep working on future projects, or at the very least refer others to seek his services. I cannot complain. He puts great effort and thought into his craft and is not happy until the client is satisfied. But if I'm being honest, chances are you'll be blown away from the get-go. He has my recommendation, 100%"
Shaneka Willingham
"LOVE IT! Tears of joy!!"
Ryan Morrow
"I absolutely adore what you've done on this project. The images really capture the complexities and essence of Deep Survival, all the while being crisp and unique."
Amber Baker
"OH, MY GOD! They are beautiful! There aren't words to describe how talented you are. All of them are amazing."
Camille Inkwell
"Hands down this is it. Its more than perfect. Mitch is an excellent and professional artist and I cannot recommend him more."
Nicole Lyons
"I know I have said it before, but you are badass talented as they come. These are bloody gorgeous." 
Rhett Pritchard / S.L. Foxton
"I have worked with Mitch on all three of my books and continue to work with him on current and future projects. I wouldn't go to anyone else for design work. Not only is he excellent at what he does, but he takes the time to get things perfect in order to match my vision. He's extremely receptive to his client's ideas and does a superb job of translating those ideas into his designs. Plus, he's just a swell guy and easy to work with."
Dena Daigle
"Omg Mitch! Epic designs! Dude the depth in the artwork though....incredible! I absolutely love it!"
Tene Edwards
"Thank you very much for the concepts, your artwork is beautiful."
Bene Kusendila
"They're awesome!! and inventive! Just blew my mind!"
Patrick Hart
"The cover concepts are AWESOME! My favorite is the first one! The body looks real but not grotesque; it's perfect!"
William M. Peaster
"WOW! They are all absolutely incredible, I sincerely appreciate you putting them together for me! I've totally fallen in love with the 2nd one, it literally is my dream cover."
Saab Wise
"I love it! It is amazing! Good job!"
Kayil York
"You did a fantastic job capturing the picture I had in my head for this cover!!"
Huma Adnan
"The cover is just WOW! I loved it. It's exactly what I needed and I am really glad to see it."
Ruby Dhal
"It is all perfect. Absolutely, 100% perfect. Top notch. The kind of book I'd always envisioned that I'd call my own."
David Zulberg
"Mitch is great and always ready to make the job perfect! He's super easy to work with and always goes above and beyond. Will definitely be back again."
Simi Fromen
"Mitch Green is a genius. He works magic in every form. From the cover art he did for my book to the interior layout and custom pages. He was so easy to work with and accommodating in the many changes I made. I have recommended him already to other writers and will for sure be using him again!"
Sheila Chanase
"I love love the cover right now and I am so excited. You delivered just what I wanted."
Tyrezzy Bey
"Thanks again Mitch, I truly appreciate you and the time you took to create and design the cover, your work is amazing."
Joe Adomavicia
"Hey Mitch the book came in today! It came out Phenomenal!"
Tasha Gregory
"Super talented, professional, and quick to deliver results. Great experience and highly recommend."
Zachry K Douglas
"Jumps out to my soul. You did an incredible job and wish I had better words or more, but I am literally speechless!!!!! You knocked it out of the fucking park brother."
Reggie Johnson
"Mitch, I commend you on your work ethic and professionalism when it comes to your book cover designs and running RAD Publishing. You were able to fully capture what I envisioned for my Duly Noted in just a few words I used to describe the essence of my chapbook. I can't wait to work with you again on a cover again."
"It looks amazing, Mitch! You outdid yourself, took my vision and really brought it to the next level. The interior is definitely reflective of the light tone. The envelope idea was a brilliant touch! You're very timely and super professional."
Abby Chaney
"My gratitude goes towards you and Rad Press for the amazing outcome of my latest music video. Not only have you openly promoted underground artists, you've brought to life an image I could only dream of at one point. I cannot wait to show off the finished project with others, with cinematography accredited to you!"
I. Wimana. C
"I have had the pleasure of working with Mitch on a number of my projects; not 1, not 2, but 3 separate covers he has done for me. After the first, it was a no-brainer to have him design my book covers for my other projects. I have gotten so many compliments and great feedback on the cover design of my debut book "The Puzzle: Finding That Missing Peace". He captures the exact illustration to depict the perfect setting for the book and he does this in one go, literally on his first concept creation he nails it! I had no issues of any sort working with Mitch. Dude is talented and amazing at what he does. Not only quality designing, but quality service as well. I'd recommend him to anyone wanting design services. Keep up the great work bro!"